Fiabee for Android

All your files available at your Android Smartphone and Tablet
(Only for business users) Admin can manage mobile apps features from web console
Only for Business accounts, the admin profile can remotely control the features of the Fiabee mobile apps for individual users as follows:
Do not allow the user to caching files at the mobile devices for offline access.
Grant read-only permission to the user (he can't delete, rename or upload files).
Deny cloud print permissions from mobile apps.
Other features are being added and will be published in the incoming releases.
(Only for business users) Select the Fiabee apps that a user can install
Also for Business accounts, the admin profile can decide which Fiabee apps can be installed by an individual user.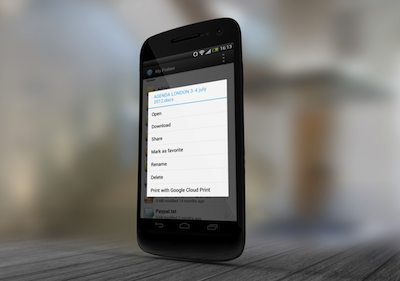 Remote wipe
A mobile device can easily get lost or even get stolen, or an employee can leave the organization and keep the device because it is of his property – because a Bring Your Own device Policy. In all those cases, from the web the user can remotely execute a wipe of all the metadata and files stored at the Fiabee mobile app. No other info will be wiped from the device, only the files and metadata related to the Fiabee app. The files will be kept at the servers so the users just need to re-install the app in a new device to recover them.
Cloud Print
Fiabee is integrated with Google Cloud Print. In the case of corporate customers, Fiabee can be integrated with their cloud-printing corporate provider to let the users print directly from their Android mobile device.
Selected documents are always "in sync"
Some documents must be accessed at any time and with the last changes added, even with no Internet connection. Fiabee lets the user to individually select documents as "favorites": they will be automatically synchronized –when closed, with the mobile device, with no interaction needed from the user's side.
Search across all your devices (even offline)
Fiabee Android app lets the user to search across all the documents even with no Internet connection.
Local encryption of the user credentials
Fiabee Android App locally encrypts the user credentials, although for security reasons no password is ever stored at the mobile device.
Import-Export from/to third apps
Fiabee lets the user export to commercial editors or third apps the stored documents and sync them back to Fiabee – if the editor allows the export feature. With the import capacity an email attachment can be automatically uploaded to Fiabee.
Local passcode
The user can set a four digits local passcode to avoid non-authorized people to access their corporate documents.
Uploaded files can be shared via an automatically-generated link.
The user does not need to download a file to the mobile device to be shared with third parties. With just one click a share-link is generated and served directly on the email dialogue to be sent to any user.
Managing files and folders
It is possible to create new folders, rename or delete files or upload photos from the camera roll with multi-selection.