Downloading Fiabee for Mac...
The download should start automatically. If not, click here to restart.
1. Download Fiabee
Accept the download of the Fiabee installer to proceed.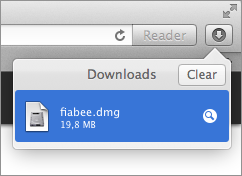 When the download is finished, click on the .dmg file.
2. Double click the installer
Double-click the Fiabee icon to begin the install process. When the process ends the Fiabee icon will appear in you menu bar.